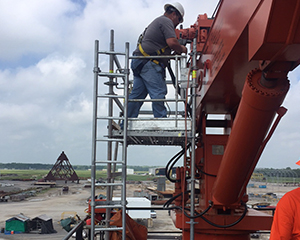 E & E's on-site machining capabilities allow for us to complete jobs while reducing our customer's down time. This in turn, saves our customers money. Below is a list of our on-site machining capabilities.
On-Site Machining Services:
Align Boring – 1″ through 28″ ID holes
Turning – 1/2″ through 72″ diameters
Keyway Cutting – 1/8″ through 3/4″
Winch Drum Turning and Facing
Pneumatic Drilling or Electric Drilling
Engine Alignments
Generator Alignments
Flange Facing
Call Us
Our company offers a wide range of machining and fabrication services. We also have expertise in CNC waterjet cutting. Call us now!