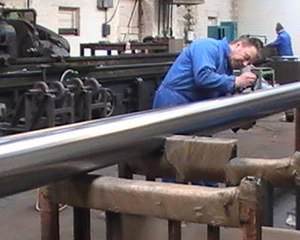 Our on-site chrome repair process takes damaged cylinder rods and repairs them to better-than-new condition. Let E & E's certified chrome repair technicians assist with your next chrome repair. Below is a list of some the benefits of allowing E & E to repair your damaged chrome rod:
Benefits:
Economically repairs scores, dings, gouges, and pits on damaged chrome cylinder rods in the shop or in the field.
Minimize downtime with on-site repairs that add efficiency and savings to your operation.
Prevent costly environmental clean up by eliminating hydraulic oil leaks.
Set up a low cost, preventative maintenance program that ensures environmentally safe, on-site repairs.
100% metal molecular bonding provides a permanent repair that won't peel, chip or flake.
Repairs pass pressure test and are economical to perform.
Hard chrome metallic surface repair blends with surrounding surfaces.
Find Out More
We take job safety very seriously. Learn more about our safety measures.