E&E Machine Shop and Services, LLC in Houma, LA offers a new avenue of cutting parts, water jet cutting. Abrasive water jet cutting allows controlled cutting of parts with precision and smoother edges, than most conventional ways of cutting. With the mixture of abrasive garnet and 52,000 psi of water, shapes are cut with virtual ease. We are able to cut almost any type of material – from plastics and stainless to rubber and hardened steel. We also cut titanium and other super tough metals. In addition, we can cut various thicknesses, from gauge material to 10″ thick.
In water jet machining technique, heat distribution is next to none, therefore, there is no warping of material as in cutting with a heat source such as laser, plasma, or standard torch.
Water jet cutting is an alternative to the normal way of cutting plate material. The main advantage of water jet cutting is that it allows precision machining services. We are able to cut holes that would normally have to go to a drill press or mill. We are able to hole tighter tolerances than most other forms of cutting. There is no slag developed on the plate, and virtually no heat is transferred into a 2D shape. If you have your part already drawn in an Autocad drawing or a dxf file, we can cut directly from that drawing when it is in a 1:1 scale. This ensures, the customer gets exactly what he/she wants. There is no chance of a lost dimension when we use your drawing.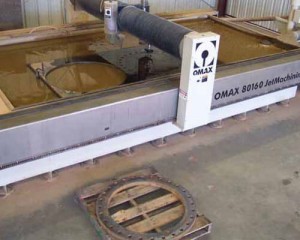 Contact Us Today
We are a service-based metal shop and fabrication company. We specialize in chrome plating and other fabrication services. Contact us today!