E & E's waterjet machines play a vital role in assuring customer satisfaction. Using a .030 nozzle, we are able to blast through up to 10" thick steel with a 60,000 PSI stream of water. Recently, E & E added our new 80X machine. The 80X gives us the capabilities to perform flawless cuts with no machining or clean up. This machine is equipped with the latest technology, and boasts the new A-Jet cutting head. This cutting head gives us the ability to not only make typical 90 degree cuts, but also cut up to a 27 degree bevels.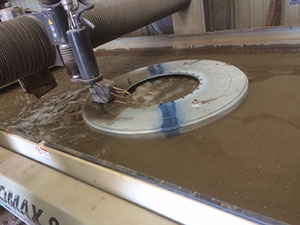 Capabilities:
55100 Machine- 55" x 100" x 10"
80X Machine- 80" x 13' x 6"
Reach Us Today
We offer plasma cutting and flame cutting services. Contact us today!